It's time to systemize your business
Document and hand over recurring tasks, training and onboarding. So you can scale from $500k to $10m+ without constant stress. 😅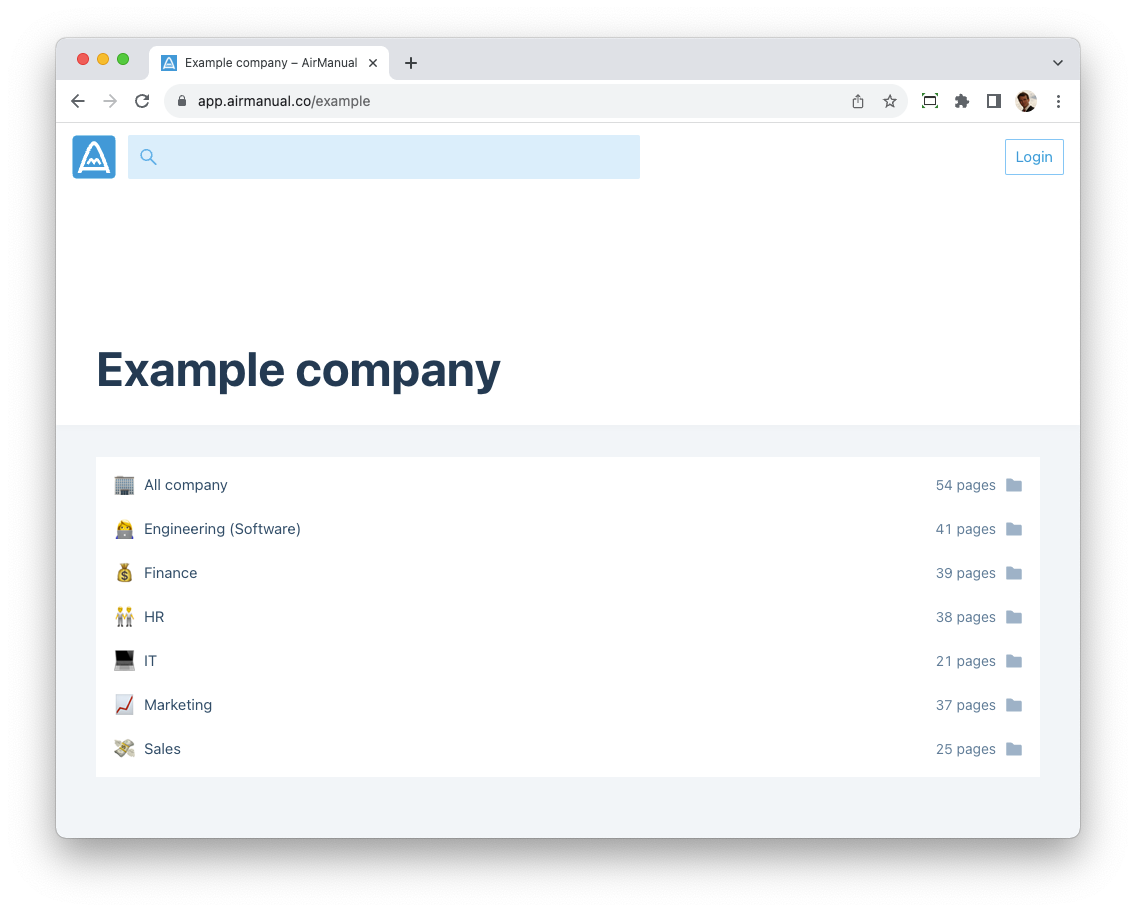 Get tasks documented and handed over
Free up 100s of hours
Stop relying on specific people
Get consistent results
With AirManual, you can document all of your recurring tasks as simple checklists.
For example: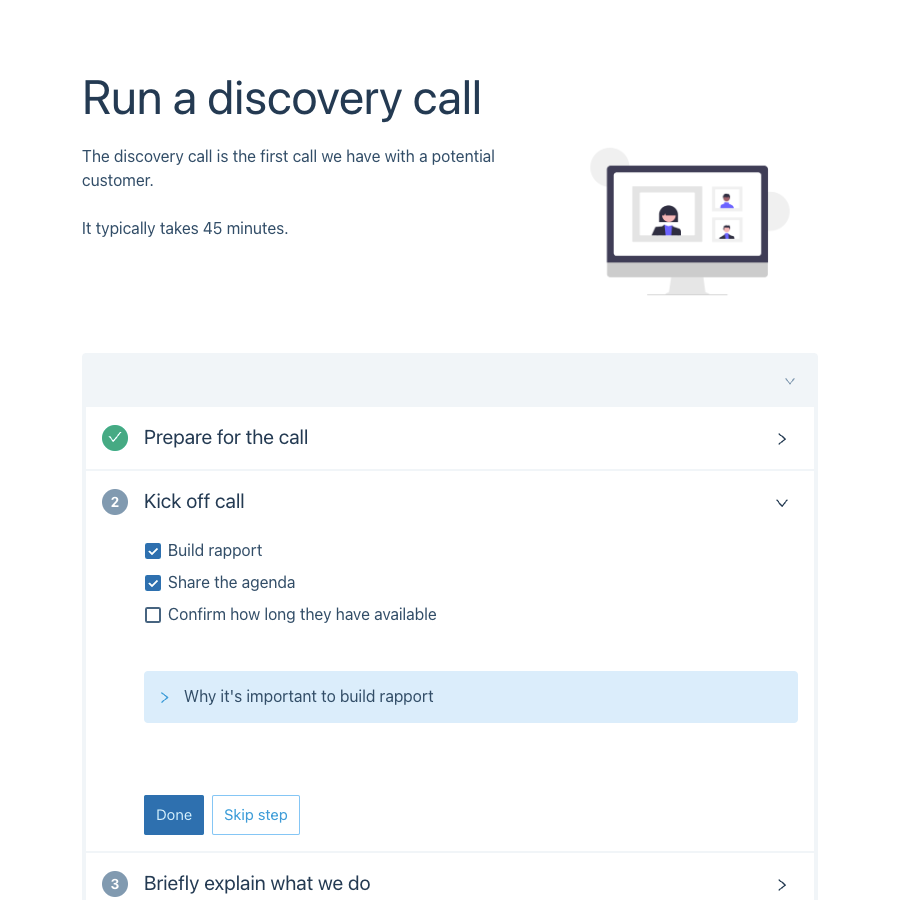 Show more
Make training and onboarding self-service
Onboard 5x faster
Save 100s of hours
Reduce hiring costs and churn
Making your onboarding self-service is a game changer. The time it takes to set up is typically repaid with the first employee who uses it.
Example content: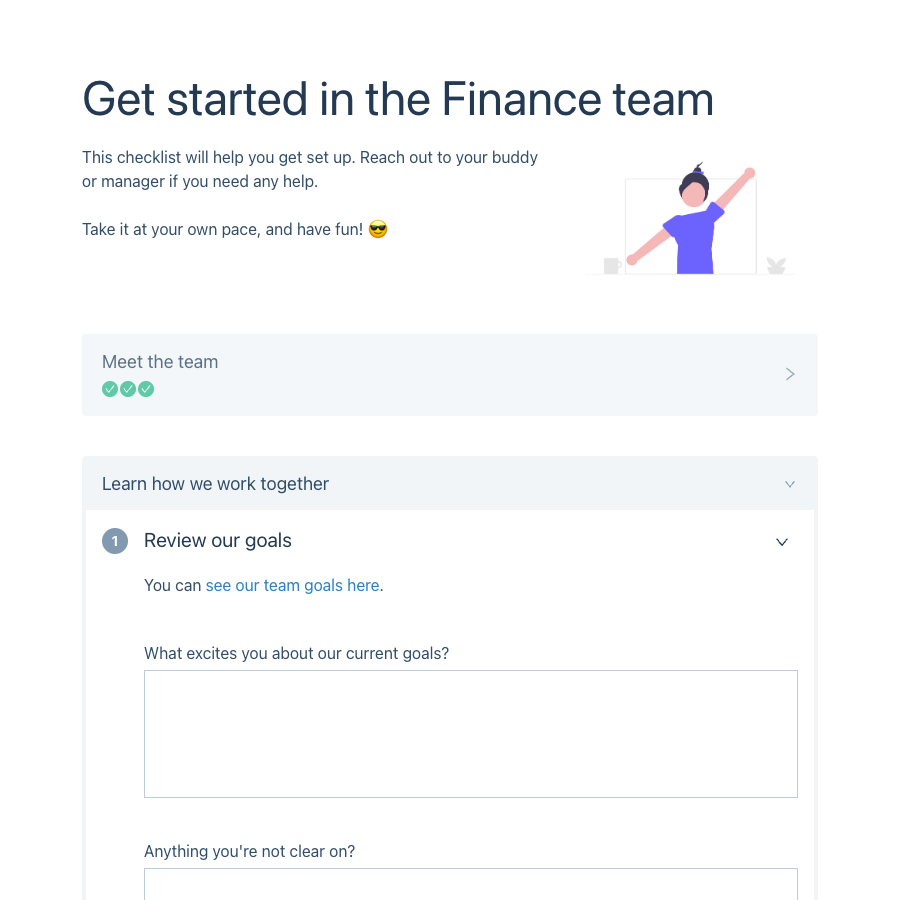 Show more
Manage and automate your processes
Processes get followed
Automate when ready
Continuously improve
AirManual provides the tools you'll need to plan, manage and scale your manual.
This includes:
Content planner: Plan and prioritize what guidance each team needs.
Process dashboard: See when recurring processes are overdue.
Automations: Automate time consuming steps by integrating with 5000+ other tools (via Zapier).
Submission data: Easily see what checklists have been run and when.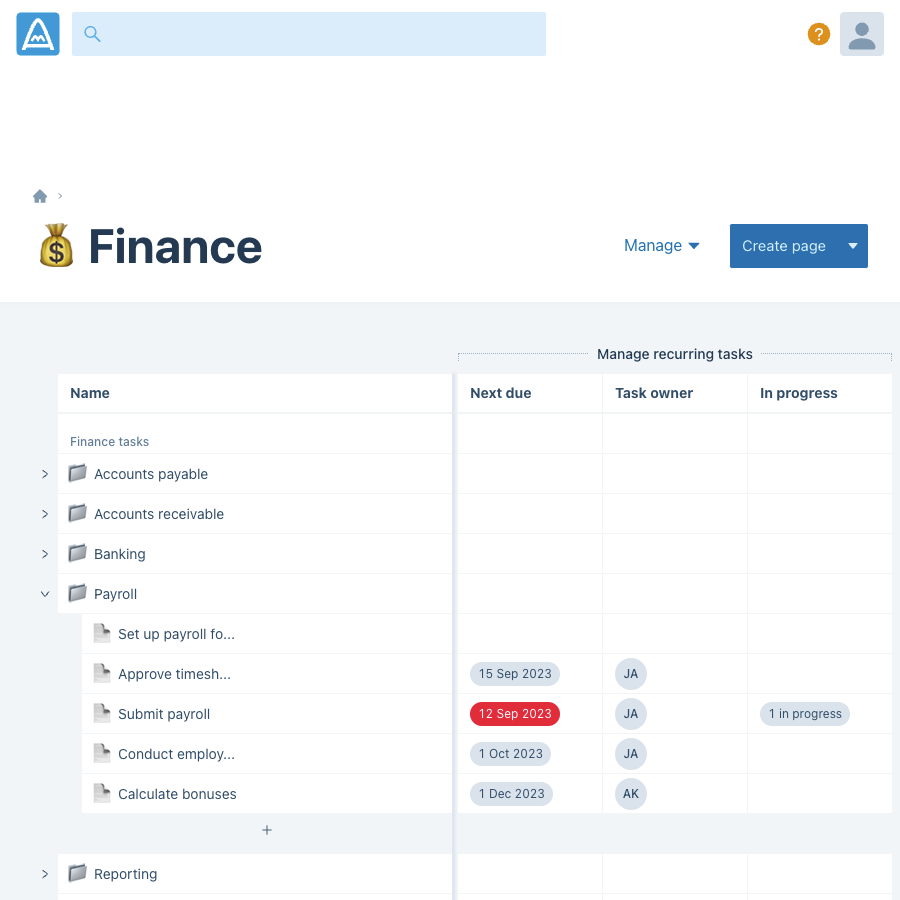 Show more
Gradually systemize your entire business
AirManual can help every team in your organization. Start where you need it the most, and gradually scale up.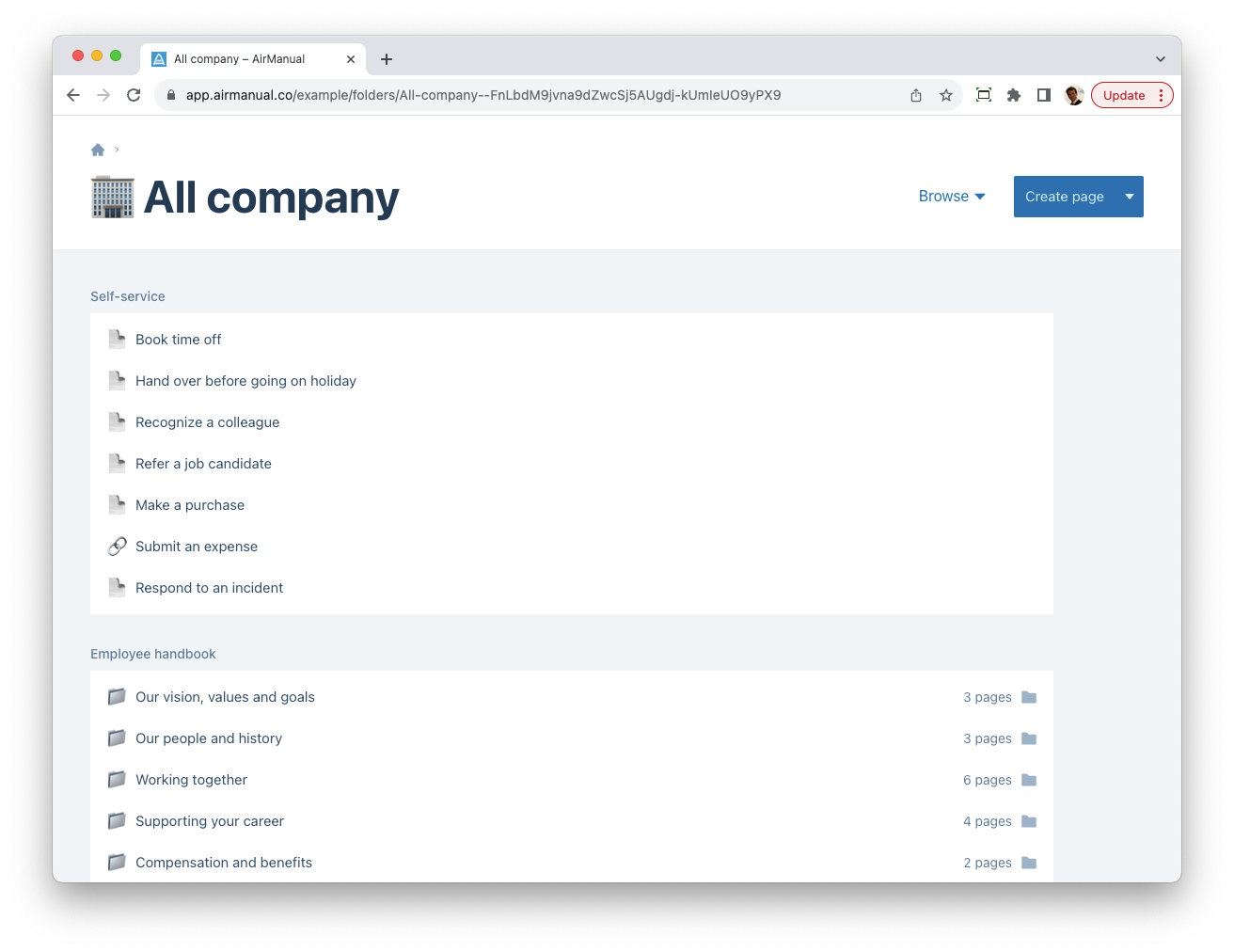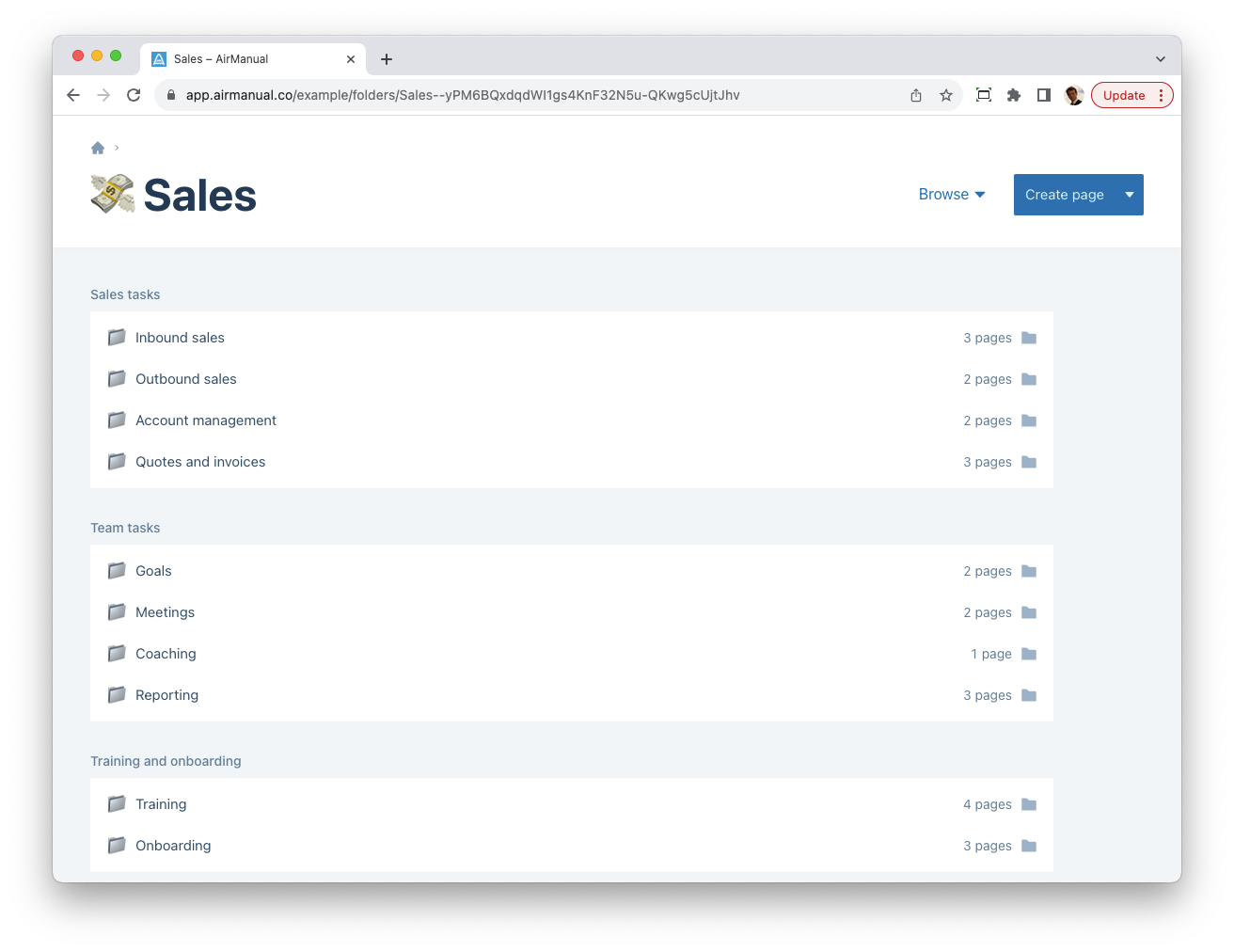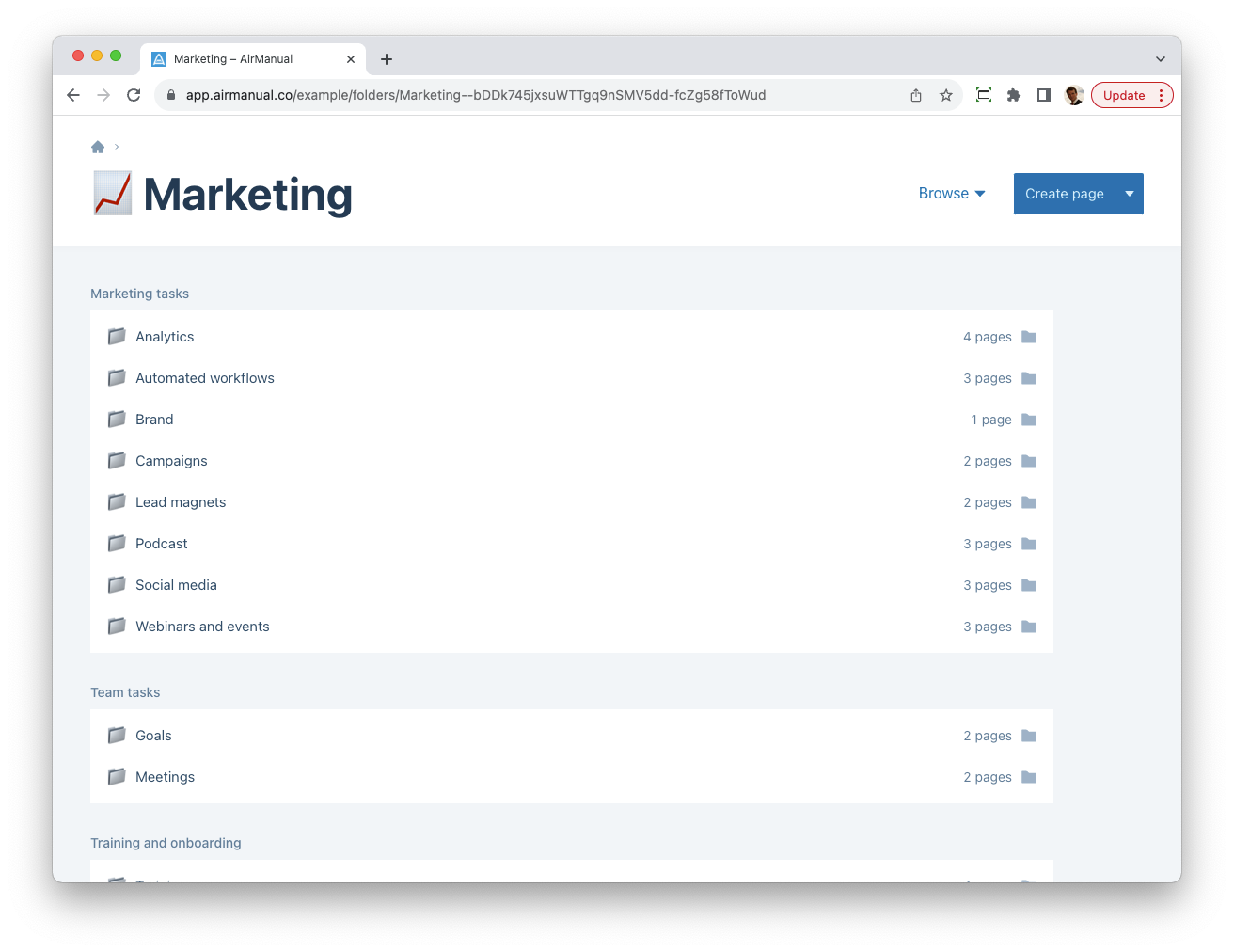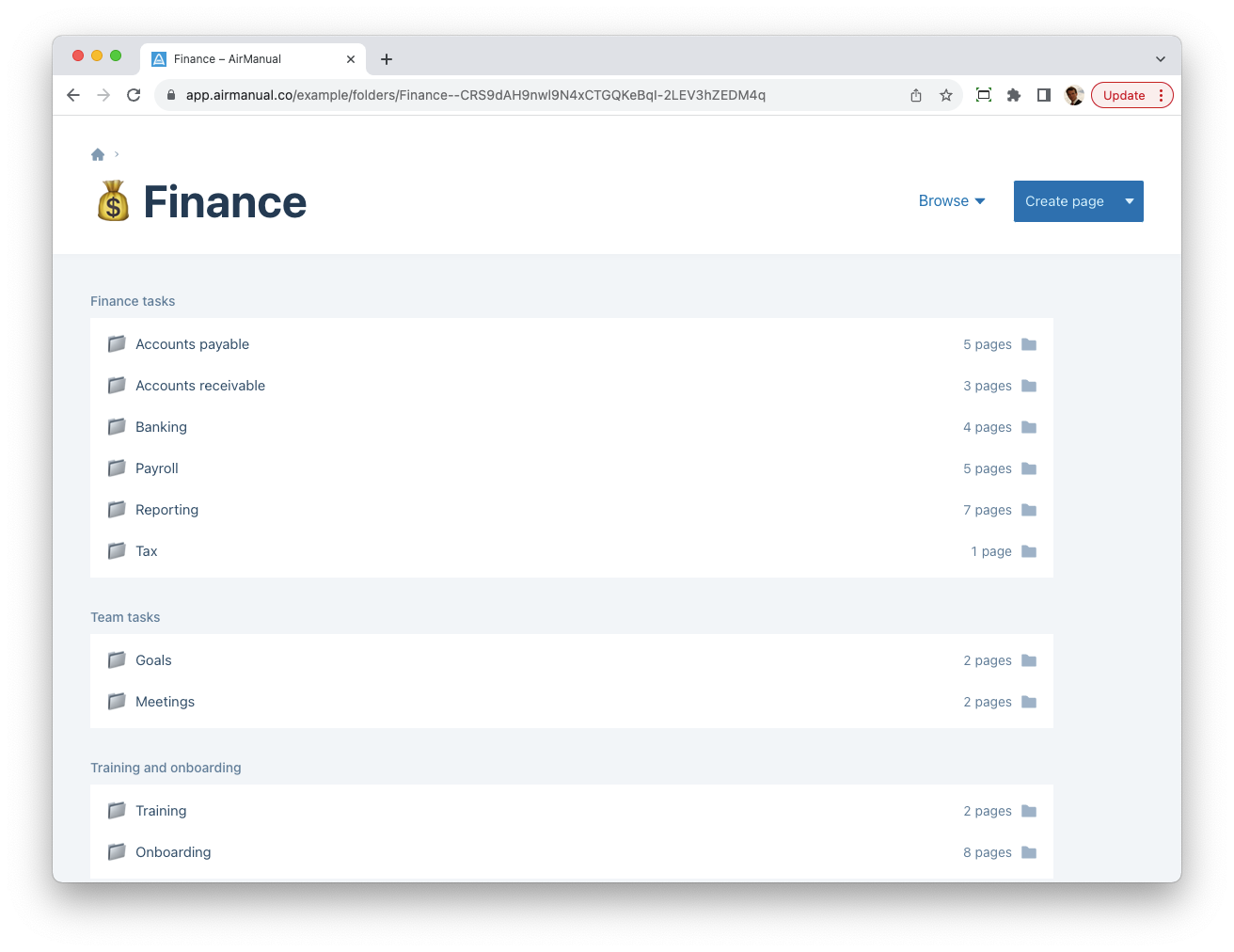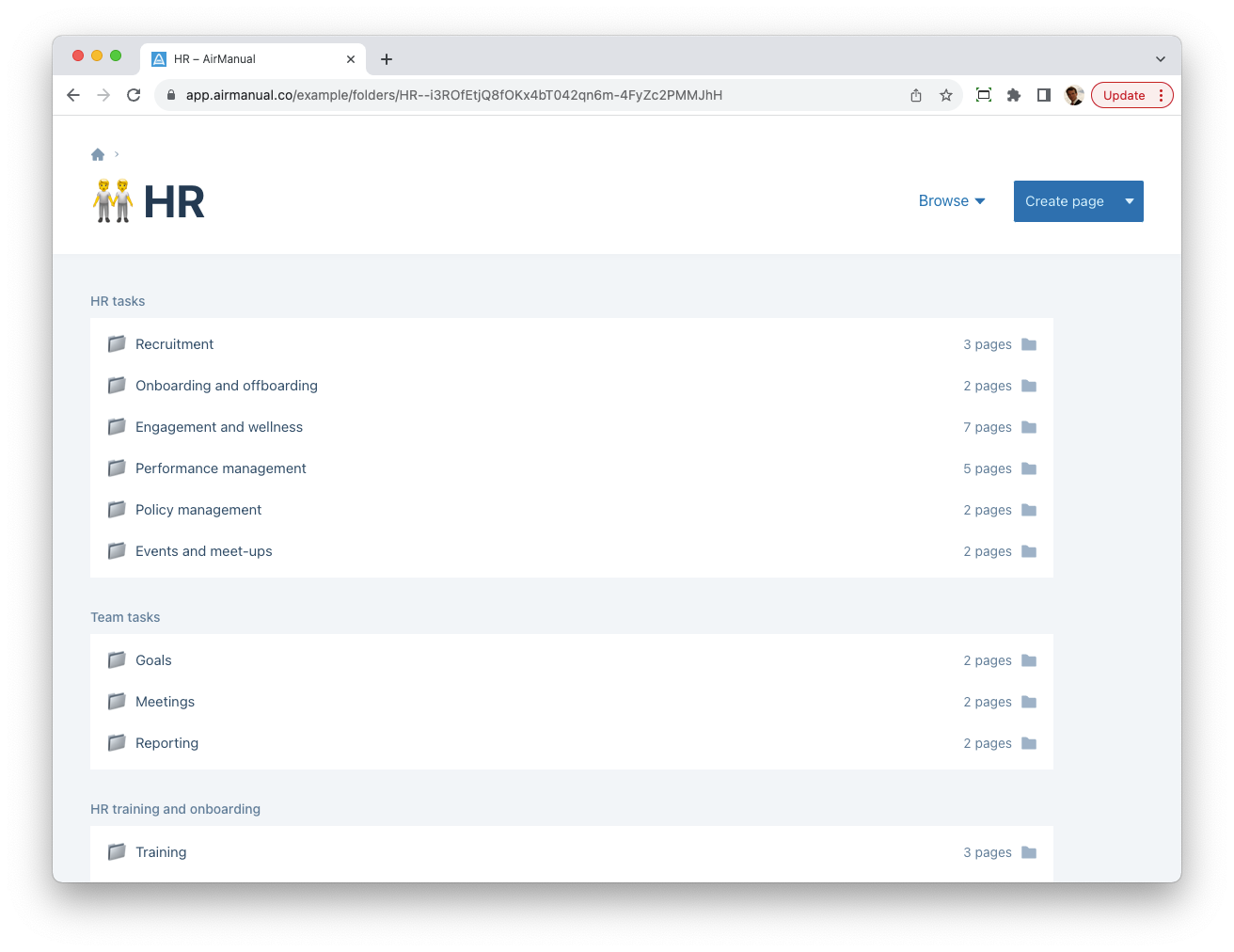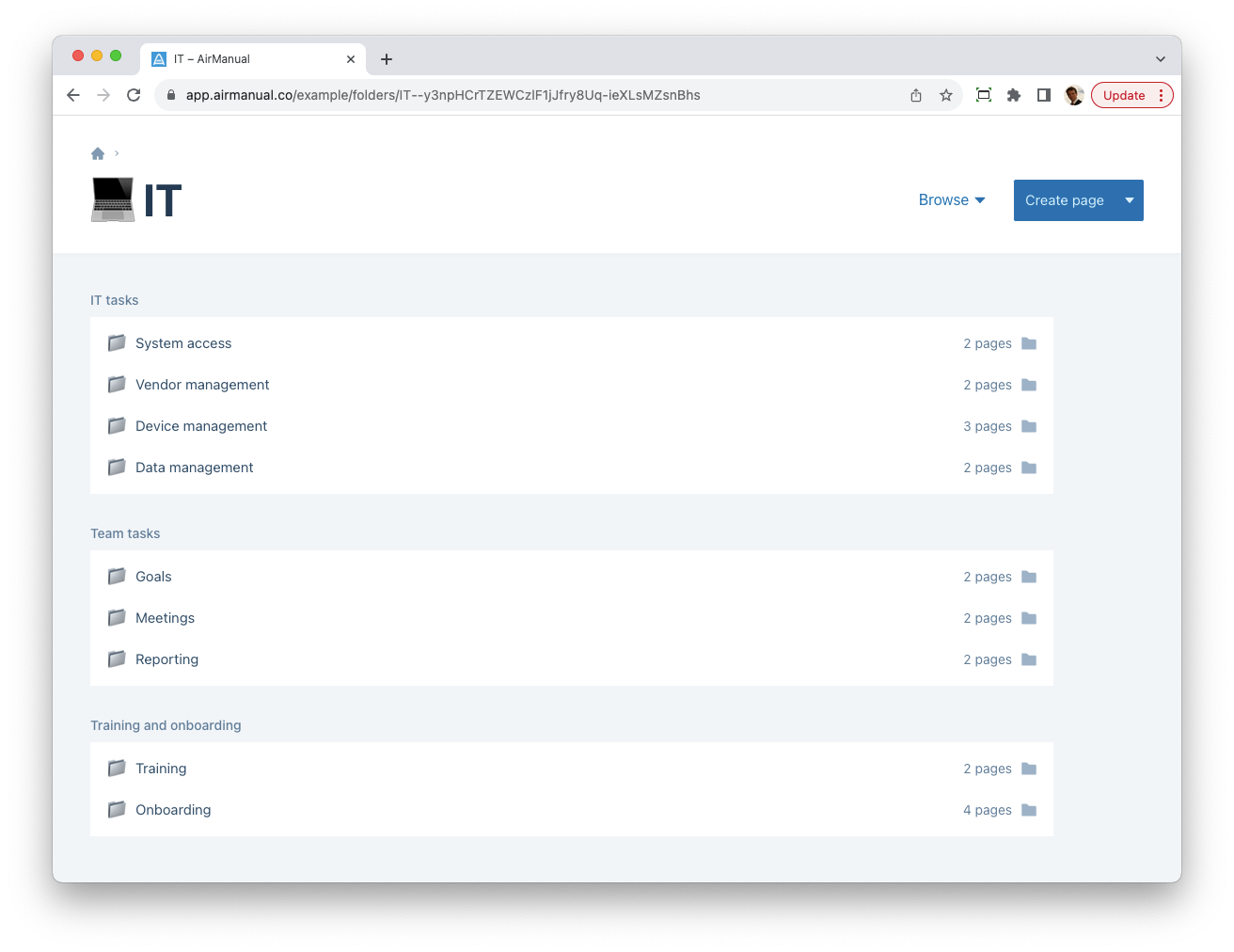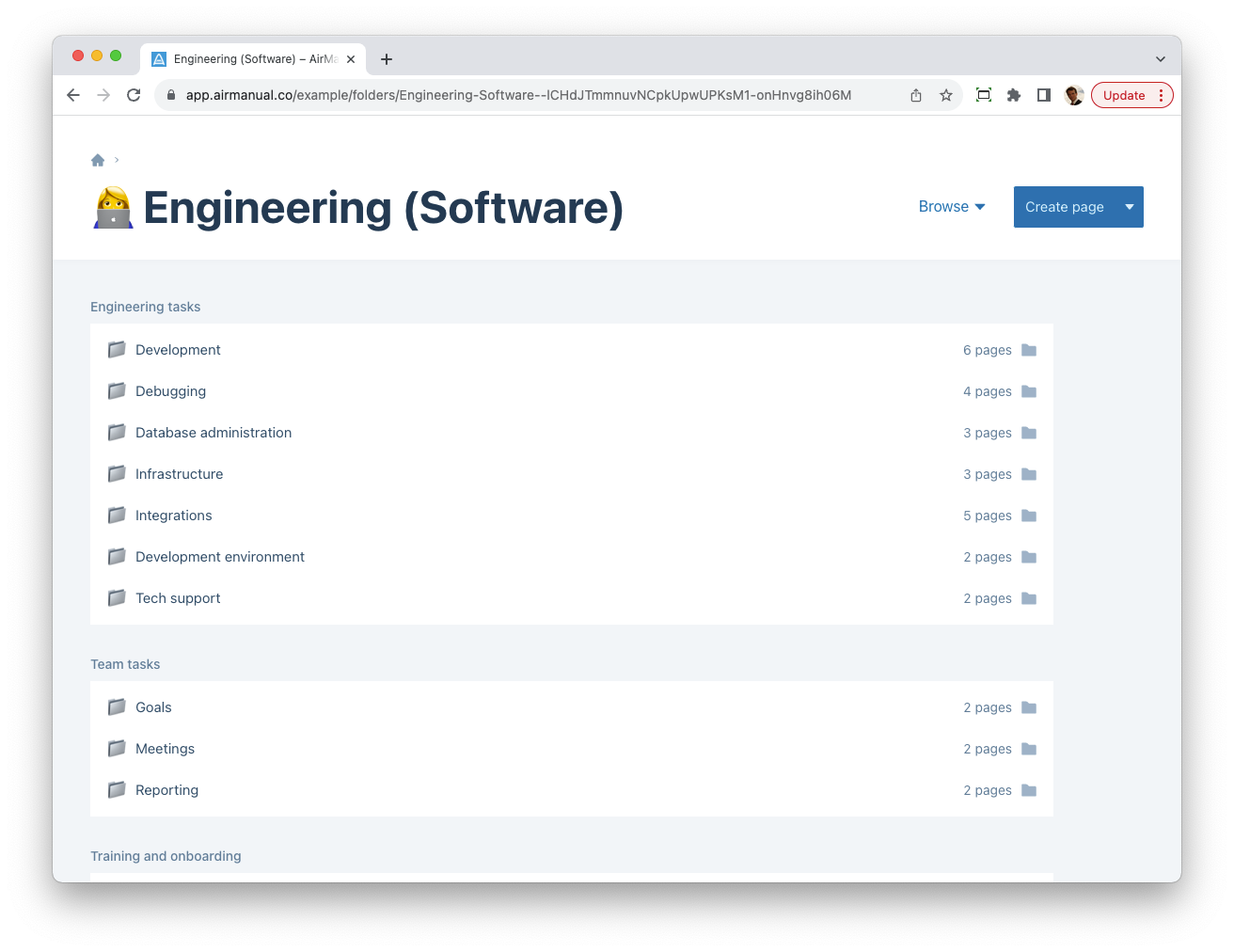 With the tools you need to plan, manage and scale
AirManual makes it easy to start small, gradually scale, and continuously improve your systems.
Content planner
Plan, prioritize and manage the content that each team needs.
200+ ready-to-use templates
Use our friendly templates to get new processes and policies set-up in minutes.
AI powered editor
Can't find a template? No problem, AI can help you to generate checklists that your team will love.
Integrate with 5000+ tools
Using webhooks and Zapier, you can integrate with over 5000 tools.
Review checklist submissions
It's easy to review and manage in-progress and submitted checklists.
See when recurring tasks don't happen
Finally, an easy way to make sure important tasks are never forgotten.
Loved by businesses that want to succeed
AirManual's helping 100s of businesses like yours to unlock growth and remove stress.
The rest of the team can now sell independently of me... Which in terms of financial goals for the company is incredible!
I have saved about a week already by delegating quite complicated processes to my virtual assistant seamlessly. My overall experience is very positive.
It's given me confidence that the team is now using a standardized approach, and it's easy to make changes to the checklists when needed.
Awesome! The system its self has vastly improved the organisation of all our processes. It's just so easy to navigate. Whatever you do in AirManual just feels easy, wether you're adding links/video's to an existing process that you've copied across or setting up a new process from scratch. The checkbox & guided checklists mean processes are simple to complete & ensure no step is missed.
Should I hire? Before AirManual, I always felt that I didn't have the time. That feeling's gone.
We used AirManual to automate our pre-onboarding and onboarding process. New hire feedback has been fantastic and the team have found it easy to use. What makes AirManual really special is the customer support and training they provide. We've been blown away by the attention to detail and help we've had to guide us through the process.
Simple is the name of our game and with AirManual, you get exactly that. A simple and quick way to get everything organized and documented to keep your team flowing day to day with ease.
I have to say, I've been incredibly impressed so far. The interface is smooth, snappy and simple compared to [the previous tool I used]. The team is there to get you set up and hold your hand through getting set up and designing your checklists, and they suggest actually useful improvements along the way. Thank you AirManual for making my life easier!
AirManual is helping us to revolutionise our business and growth plans. From the beginning the implementation has been much easier than expected and my team have adopted more than expected. I am very happy with the decision to invest time and money into AirManual and I urge any company that wants to improve their process management to adopt AirManual in their business
I didn't imagine that it would have such a big impact. We've had comments from new starters saying that this is a brilliant place to work... that they love coming here!
It puts my mind at rest in a way. It gets things out of my head. So the business had been running from the contents in my head for the last 3 years, which was quite a lot to contain.
It's well worth it — it's saving us more time and money than what we pay for it. When we start using it in full capacity, it's going to make a huge difference, it's going to be priceless at that point.
The feedback from our new joiner has been how easy it's been to go through the onboarding process, and I don't think I've ever heard that before from someone coming into the business.
I got to go on holiday! And the place did not burn down. Yeah. I love it... I love it! That's the biggest win for me — that I got to go on holiday. The business has been on every holiday that I have been on since I started 7 years ago.
We love AirManual! The software is brilliant but their team are even better, so helpful and friendly and really take the time to get to know your business and work out how the software can assist and better our processes.
I find AirManual very user friendly, I enjoy that it can be completely bespoke to your company. Creating a process is super easy and can be easily updated and republished in a matter of a few clicks. It also gives great peace of mind having a live chat box should you need any support and our account manager is very quick at responding to us which we really appreciate.
AirManual is everything I ever dreamed to have in a cloud-based documentation hub that is our central source for truth on SOPs and processes. It's feature-rich without being tedious
Is
NOW

the right time to systemize your business?
Most businesses wait way too long, with leaders and teams experiencing a huge amount of avoidable stress.
Do you have $500k+ 
annual revenue?
At $500k+, you'll have started to experience the challenges that come with scaling a business. This is the point at
which you can expect to see a big return on your investment in time.
Do you want to grow faster while actually reducing the day-to-day stress?
Not every business wants to scale — that's OK! But if you want to scale, then not starting to systemize your business
will slow down growth and cause huge amounts of avoidable stress.
Can you relate to any of these problems?
Are you too busy?

Does taking a 4 week holiday feel impossible?

Does onboarding and supporting new employees slow you down?

Do you rely on specific people and worry about them leaving?

Are you struggling to get consistent results in any of your teams?

Do the same issues keep reoccurring?

Do you want a business that will eventually run itself?
If you can relate to any of these problems, then it's time to get started!
We want to make your life better
This is great for business. But your mental wellbeing is more important.
Hi there 👋,
At AirManual, we help business leaders to give their teams the guidance, processes, and onboarding they need to excel.
In doing so, we expect to have a huge impact on their businesses. They'll move faster and grow faster, with fewer setbacks along the way.
But that's not our real goal.
We're here because we've experienced what it's like when your employees are dependent on you. When you have no time. When the same mistakes keep happening.
We're here because we've worked the long hours. We've had our holidays disrupted. We've felt the anxiety. We've seen the impact it's had our own wellbeing, and that of our families.
🔥🔥🔥🔥🔥
We're here because solving this stuff is life changing.
And we want that for you.

Paddy and Alexis
Co-founders at AirManual
Hosts of De-stress Your Business podcast
Finish on time and be 100% present for family
Take 4-week holidays without distractions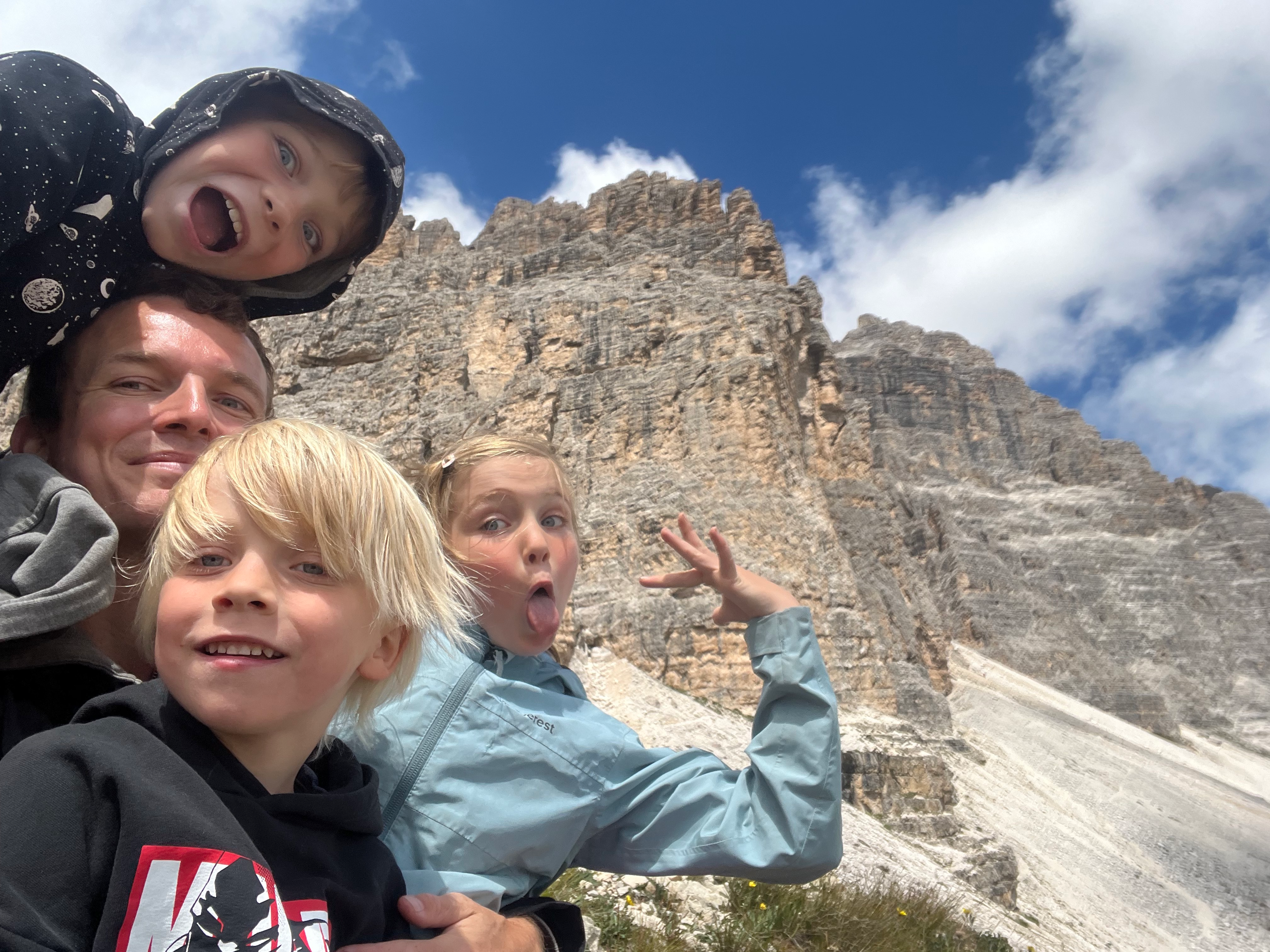 Spend more time on tasks you love
Create an amazing place to work
Create a business that can operate without you
Get a return on your investment in weeks
Don't make this a problem to fix tomorrow. Start with a small and significant step today.
Stop holding the business back
A lack of guidance doesn't just cause stress — it's hitting your bottom line.
Free up 100s of hours
Leaders too busy? Then start here.
Stop costly mistakes
Save £10,000s by avoiding mistakes and rework.
Onboard 5x faster
A new team member should help you move faster, not slower.
Stop relying on people
Don't lose months when someone gets sick or leaves the company.
Cut hiring costs in half
Get better results with cheaper resource
and
reduced churn.
Business value: +20%
Having clear processes typically adds 20% to business value.
Repeat what works
Systemize your best practices and get consistent results.
Continuously improve
Make small improvements every week and watch it compound.
Unlock growth
Put it all together and take your business to the next level.
All the support you might need
(AND/OR something about how quickly you can start seeing value?)
Schedule your discovery call
Invest less than 1 hour. Find out how you can free up 100s.